---
PLAYING
---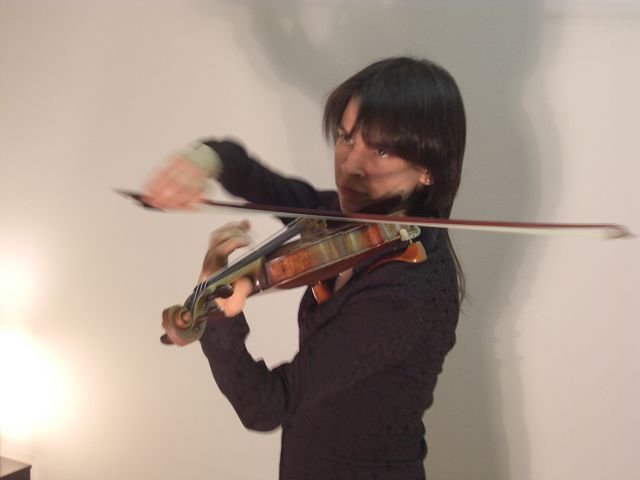 Began playing violin at the age of 4, Irene Malizia studied violin in Italy and in Austria with many different teachers like Zoran Milenkovic, Giuseppe Armaleo (Conservatorio di musica "L. Refice" di Frosinone) , Camillo Grasso Boriana Nakeva (Scuola di Music di Fiesole), Beatrice Antonioni e Marco Fiorentini (Arts Academy di Roma), Stefan Kamilarov and Veronica Kröner (Joseph Haydn Konservatorium).
She has been rewarded in a lot of violin competition and she played in many Symphony orchestras (such as Junge Philharmonie Wien, Rias Jugendorchester di Berlino, Junge Bayerische Philharmonie and other).
She is currently member of the Altomonte orchestra, with which she has recorded Bruckner's Symphonies No. 2, 3, 5, 7, 9. She lives in Vienna and she plays as soloist and in various chamber groups such as Duo Variando (Violin & Guitar) and the Maestoso Streichquartett (String Quartet) in Austria and abroad.
She plays the violin "Alban Berg" made in Cremona in 2009 by Riccardo Bergonzi and a bow, imitation François Xavier Tourte, made in Vienna in 2009 by Thomas Gerbeth.
---
Media
---
T. Vitali, Ciaccona in Sol minore. Arranged for 4 violins by Irene Malizia – Irene Malizia, Violin(s)
B. Marcello, Adagio (Concerto à 5, Op. 11, No. 4). Arranged for 4 violins by Irene Malizia – Irene Malizia, Violin(s)
J.S.Bach, Sarabanda (BWV 1004) – Irene Malizia, Violin (Live Performance)
F. Fiorillo, Caprice Nr. 28 – Irene Malizia, Violin (Live Performance)
F. I. Biber, Sonata Representativa – Irene Malizia, Violin (Live Performance)
The colours of Jazz, Tango and Spanish music. Musical CD – Duo Variando
Platform Vari@ndON AIR. Streaming Concert with Duo Variando – Film Music Part 1
Platform Vari@ndON AIR. Streaming Concert with Duo Variando – Jazz Music Part 1
Platform Vari@ndON AIR. Streaming Concert with Duo Variando & Friends – Tango Music Part 1
Platform Vari@ndON AIR. Streaming Concert with Duo Variando & Friends – The Best of Classical Music Part 1
J. S. Bach, Siciliano (BWV 1031) – Duo Variando (Live Performance)
Jazz Meets Bach – Duo Variando (Live Perofrmance)
Kirchenlieder & Jazz Trailer – Duo Variando (Live Perofrmance)
A musical journey through Europe – Duo Variando
Music for your events – Duo Variando
Wedding Music by Variando musica
We are the Maestoso(s) – Maestoso Streichquartett
Enjoying the Rehearsal – Maestoso Streichquartett